Anything Goes: 2016 – The BEST Year for Pokemon!
Hello PUCLonians and Happy New Year! When you read this, it will be 2017! For a lot of people, 2016 wasn't a very good year for a variety of reasons. There are a myriad of reasons that 2016 was disappointing, but I won't go into those. This article is about celebrating what 2016 meant for Pokemon. 2016 was Pokemon's 20th Anniversary, and what an anniversary it was! The Pokemon craze hasn't been this big since the beginning of the franchise (if not bigger) and the past year has been the best time to be a Pokemon Fan!
Games and Consoles
This year was amazing for games. First, early in the year, the original Pokemon games came to the virtual console on 3DS and many people were able to enjoy the games that began the franchise. For some it may have been the first time to play these, and for others, it was the game that started it all for them. Not only were these games released, it was also made known that you would be able to transfer Pokemon in these games to PokeBank and … well, we will get to that.
In March, Pokken Tournament, a fighting game from the makers of the Tekken series (my favorite fighting game series). Some people hopped on the band wagon for this right away, others stayed on and were excited to play this as an official event at Pokemon Championships. While this game may not have the staying power of the other Pokemon games, it is still an interesting addition to the franchise.
Oh yeah! And some small games called Sun and Moon were announced and came out… All kidding aside, these games are a great step forward in the series. The games have been fun to play (even though I am playing slowly) and are arguably the best Pokemon games to date. At this time, I won't say anything else about these games, because so much has been said about them recently, but these games were the best way to cap off this amazing year of Pokemon!
Also, each month this year (excluding January), there were mythical Pokemon released to XY and ORAS. This was the first time many of these Pokemon have been available since Gen III or IV, so it was pretty nice to be able to have access to these Pokemon again!
Merchandise
This year has seen some amazing merchandise! First, the varierty of toys, plushes (official and unofficial), along with shirts, mugs, pants, lanyards, and all sorts of things is astounding! Check out my Christmas article to see a lot of these items! But more than the regular items you would typically see, the 20th anniversary items have been awesome. Seen above are most of the 20th Anniversary figures that were released. And below is my personal collection of the mythical plushes.
The figures, plushes, and TCG boxes (which I will cover next) corresponded with digital releases the mythical Pokemon.
TCG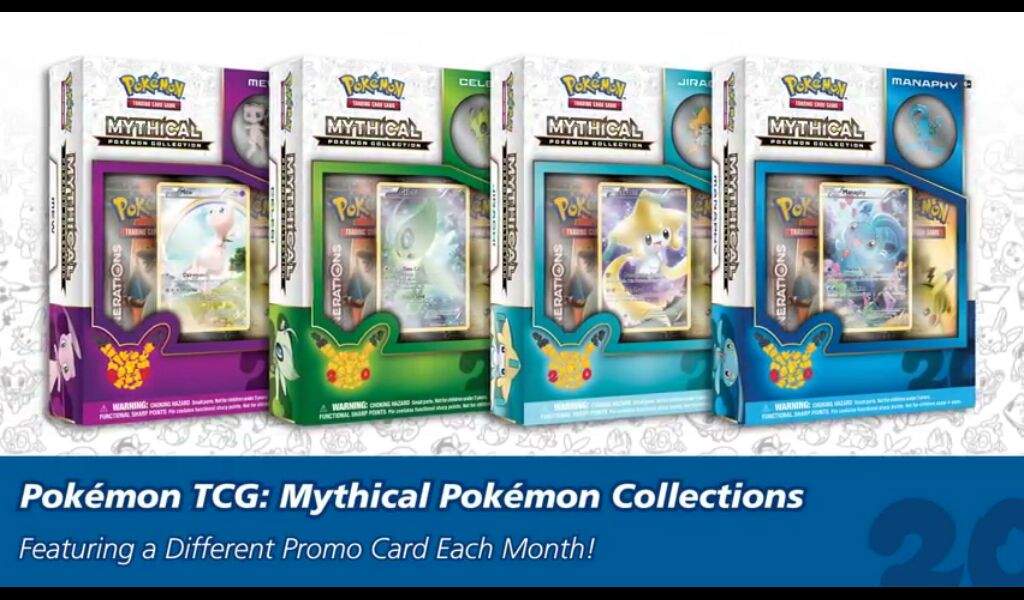 Now, TCG isn't particularly my specialty, but this was an amazing year for the TCG, as well. As mentioned before, the Mythical collection was released giving promo cards for the Mythical Pokemon, as well as pins. Included in these were the Generations TCG boosters, which was one of many love letters that the TCG wrote this year. The other ones that stuck out to me were Fates Collide and Evolutions. Fates Collide was amazing to me because it basically featured my favorite Pokemon, Alakazam and had 5 unique cards for it! It was sweet! This has even inspired me to collect all of the Alakazam cards (as well as Abra and Kadabra) that have been printed. Evolutions stuck out to me because it was a reprint (kind of) of the original base set. I loved that set and have a collection of the entire set! It was great to see the art work again and see a few additions to the collection like Mega-Venusaur, Mega-Charizard, and Mega-Blastoise, among others!
Anime
I can't say that I am the biggest fan of the anime, but I have watched a lot of the classic episodes with Snagorina and Snagorino, but this year was something special for the anime. The XYZ saga in the anime has gotten much acclaim for not just being another Saturday morning cartoon, but a true anime that many people enjoy. Gamexplain did an entire 45 minute episode discussing the virtues of this show. Ash had a really good team and even made it to the Kalos league finals!
While I may not have focused much on the traditional anime, Pokemon Generations was something that I made sure I watched every Friday! These mini episodes released on YouTube featured many scenes that the player character wasn't able to see during the play through of the game. These had a lot of emphasis on the rivals in the games, the evil teams, as well as Looker. It was an amazing set of episodes (for the most part) that I really appreciate and am glad were included this year. Check out Ethan and Jushiro reviewing the first 6 episode on PUCL Movie Club!
Pokemon Go
Pokemon Go might be the biggest Pokemon story this year! This game swept the country and the world for a few months this summer. It was the hottest thing out there. Scores of people were out walking and looking for Pokemon, many of whom had never played the series before. It was amazing to see how many people actually got involved and have become fans because of it. While the hype may have died down a bit since the initial push, the game is still incredibly popular and was one of the big reasons Pokemon was so popular this year!
PUCL
While PUCL may have only been a small contribution to what the Pokemon 20th anniversary was, 2016 was an amazing year for PUCL. This year PUCL was able to start a Patreon which was able to help us support our community more and provide some really cool things to our Patrons, as well as the community as a whole. The TCGcast didn't start this year, but came into full swing and even expanded to become a bi-monthly show! The Movie Club started this year, as well as the recently rebranded Koffee Hour (formerly known as PUCL L.I.V.E) and at the very end of the year we added Game Corner and the Battle Cast. We also added a few writers to the group such as Antonin and Capt. Gravy who have been a great contribution to the writing staff. We have so much content coming out right now!!!
And I couldn't talk about 2016 without talking about PUCLcon. We had a score of people descend upon Thatch's house from all parts of the country, continent, and even the world! It was an amazing event, not only because of the Nationals event that was going on, but mostly because we had the opportunity to meet people you had maybe only heard on the podcast, or had only met in the chatroom. And we had 4 days to just hang out and play Pokemon. It was a fantastic time and I am definitely looking forward to going to PUCLcon in 2017, where ever it may be.
One more comment I need to make about 2016 and that is that 2016 was the year of R. Sigma. While R. Sigma did not participate in the UUTC at the start of the year because he was focusing on double, he won basically everything after that. He is the PFTT Champion, Summer League Champion, and Generations Tournament Champion. In addition to that, he also won the first unofficial PUCL TCG Tournament, as well as the Pokemon Underground Fantasy Football League (PUFFL). R. Sigma, you are a fantastic competitor and alway humble in your victories! I can safely say that you are the PUCL Champion for 2016. Great job!
With that PUCLonians, I must sign off. But I did want to take this time to remind you that while 2016 might have sucked in many aspects for some people, for Pokemon, 2016 was the best of times. Don't forget this time, friends, because it might be another 10 years before we see a celebration quite like that one we had this year.
Have a wonderful 2017 everyone!
~Prof. Snag
Make a writer's day. Leave a comment!